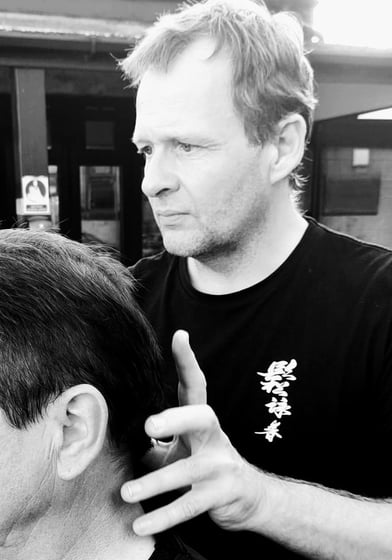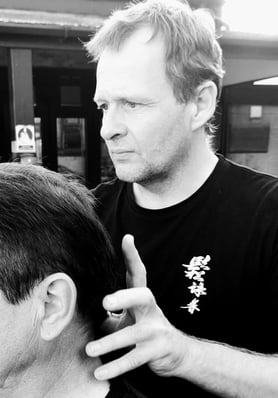 Daniel Parr BA, MSTAT

Before I discovered the Alexander Technique I studied to be an accountant and had a career in corporate investigations. Also, since 2000 I have trained in several martial arts, becoming a certified Wing Chun Kung Fu teacher in 2012.
It was through my study of Chinese martial arts, and many trips to train with masters in Hong Kong, that I became enamoured by the idea of mind-body connection and effortless movement. Despite training with talented individuals, I was unable to find anyone with the skill to articulate and teach their ability beyond a superficial level.
I had my first Alexander lesson in 2007, it was not what I expected. My teacher was able to explain and demonstrate a practical learning methodology, and showed me how to release tension in my body I was not aware of. Instead of showing me new exercises and stretch routines, he showed me how to strip away unhelpful physical habits. I saw this as a key to freeing my of muscular pain, and also gateway to understanding the deeper internal nature of martial arts. Thereafter I continued having lessons, until in 2017 when I decided to start training at the Manchester Alexander Technique Training School (MATTS). What I discovered at MATTS was a community of world class teachers with a passion and desire to pass on the method in a traditional manner as taught by FM Alexander himself. During my time at MATTS I have worked with dozens of teachers, including world renowned visiting masters.
I qualified as an Alexander Technique teacher in 2022, I am fully insured and a member of the professional body for Alexander teachers (STAT). I have a current Enhanced DBS certificate and as such can work with children and vulnerable adults.
The Alexander Technique has helped me identify unhelpful habits in the way that I move and think, it has changed my life and how I relate with people and the environment in numerous ways, and has been the most valuable learning experience I have encountered. My passion is to pass on the principles of the Technique to as many people as possible, to improve their lives in the way that it has improved mine.
As well as teaching the Alexander Technique in Sheffield, I also act as a visiting teacher at the Alexander Teacher Training school in Manchester. In addition I teach Wing Chun Kung Fu both on a one-to-one basis and in groups. This has given me the opportunity to introduce Alexander ideas to hundreds of people and improve their balance and movement as they learn a difficult skill. I also enjoying applying the technique to all other aspects of my life, including playing the guitar and walking.
Click the button below to see how I have helped students.